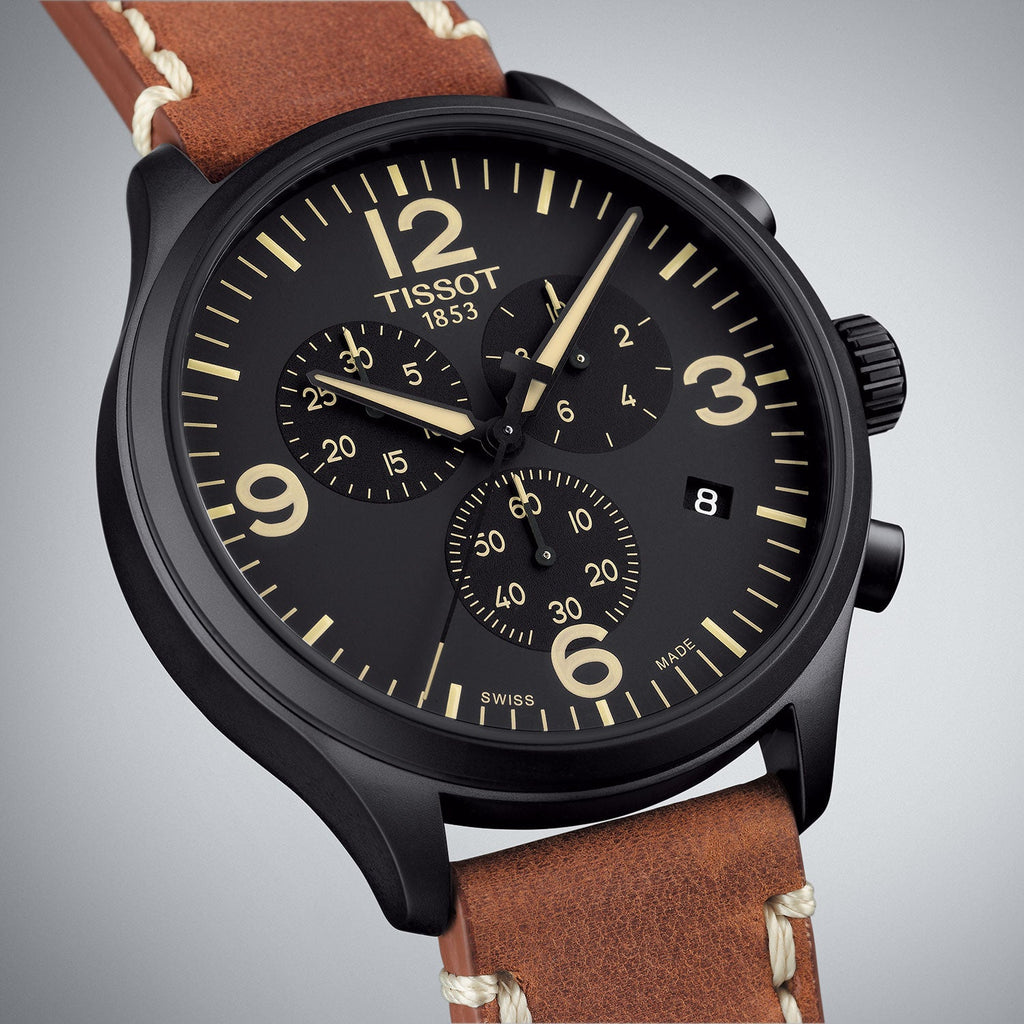 Tissot has become a staple wristwatch for plethora folks around the globe. That is, to say the least, putting it mildly. With millions of watches sold annually each year, Tissot is an inescapable name that denotes a fair price and solid engineering.
Charles-Félicien Tissot and Charles-Émile Tissot.
Originating in Switzerland (like many famed watch brands), Tissot launched as a father-and-son operation in 1853. The combined labors of Charles-Félicien Tissot and his son Charles-Émile entered the watchmaking scene in Le Locle Switzerland, located in the Jura mountains. What's often referred to as the "watch valley"—covering the Swiss Jura Arc from Geneva to Switzerland—was really hitting its stride as Europe's premiere watchmaking locale during the 19th century. Though this area of Switzerland had a history with timekeeping dating back to the 15th century, more families began planting their flags and sending their products into a growing international market at this time.
What the Tissots had to offer at launch was a two-time-zone pocket watch. They certainly weren't the first to project this kind of mechanical prowess onto the world—but its craftsmanship and expert construction would sew the seeds for a series of future successes. Within the century Tissot would become presidential, international, and well on its way to fresh innovations.
1853-1899
After releasing their first watches in 1853 Tissot began crafting pendant watches for the U.S. market. In 1858, just five years after their establishment, father-and-son Tissot landed their pendant watches in the States—to fair success. It was in 1858, as well, that Charles-Émile (son) ventured to spread their family name across the Russian empire. Appealing to two of the world's largest markets for European export watches worked out well for Tissot. What's more, they established themselves as a company that could make watches that appealed to both men and women. Their pendant watches alone made Tissot synonymous with catering to a variety of horological tastes.
It took a little longer for an 1878 release of Tissot's pendant-style watches on the Russian market—but they were just as well received as any pocket watches they were selling in that country. Almost one decade later, in 1887, Tissot's international appeal paid off in a very presidential way. It was in that year they were charged with designing a pocket watch for Swiss President Numa Droz. In three short decades the Tissot family was curating a fine dynasty.
1900-1950s
Tissot's early years helped establish their name on a growing global market. When the 20th century came roaring in, so did opportunities for adapting new styles to the brand. A new era saw a surging demand for wristwatch time pieces. This rising influence spawned a 1916 classic for Tissot—the Banana. Its arched rectangular case design and oblong-shaped Arabic numerals matched a growing trend toward art deco inspired fashion in watchmaking. What's more, it was an early wristwatch from Tissot—and it became an immediate classic. Through the 1920s Tissot would cling to this modernizing bend toward avant-garde wristwatches. However, one of watchmaking's powerful firsts would be born from Tissot come 1930.
1930 marked the release of the world's first non-magnetic watch. Labeled the "Antimagnetique" (very clever) Tissot's creation addressed the issue of loss-of-time due to electromagnetic field influence. It was in this same year that Tissot merged with Omega. Their combined efforts lead to a long relationship with building stopwatches for sporting events. This included major skiing events in Switzerland, as well as other major international tournaments.
By the 1940s Tissot began running their first filmed advertisements in cinemas. These ads became the norm and had a massive appeal to a new generation that was growing up on wristwatches. Through this decade, Tissot and Omega (as a combined force) continued to take sporting events by storm, while retaining the stylistic integrity of current watchmaking fashion.
Turning up the heat on simplified user interfaces, Tissot dropped another gem in the year 1951. Their "Navigator" wristwatch employed the first-ever 24-Time-Zone piece that required zero manipulation to read. This attention to detail on streamlining user interfaces would lead them toward further developing a renown of both quality and stylistic flair.
1960-Present
Once the 1960s hit Tissot had become highly dialed-in to their popularity in the racing world. In 1965, combining their relationship with sports and stylistic evolution, they patented the first ever watch strap with holes (designed for fashion). Mirroring the steering wheels on race cars, Tissot portrayed retro-futurism and a penchant for racing sports in this unique release. Futurism gripped the watchmaking world through the 1960s and 1970s. With the space race fresh on the minds of the world's watch wearers, rising interest in new technologies took hold of the globe. A stark reality of this rising tide toward automation—for brands like Tissot—was the eventual release of electronically powered wristwatches. By the 1980s Tissot, alongside other major Swiss mechanical brands, suffered major monetary losses. In 1983 Tissot was thus purchased by the Swatch watch group—a reality that stands to this day. After Tissot was picked up by Swatch they began releasing novelty pieces under the Tissot brand name. 1985 saw the release of a "rock" watch made almost entirely out of stone (aside from the movement and band). 1989 saw the release of a wood watch from Tissot—a now trendy form of case design that they predicted quite well.
Under Swatch, the greatest current success one can cite for Tissot is their "T" series. Combining their history of sporting prowess and fluid appeal among audiences of all genders, Tissot put both feminie and masculine styles into this line. Applying their years of unique innovation to quartz watchmaking, with their name in the hands of Swatch, Tissot would birth the crown jewel of their quartz series—the Tissot "T-Touch". Being the first tactile (touch) screen Swiss watch, the T-Touch took on a life of its own in the world of horology. After its 1999 debut the T-Touch would go on to take a variety of new forms; Solar-powered and sports-oriented T-Touch watches continue to remain popular to this day.
Innovations by Tradition
While it could be easy to dismiss Tissot as another Swatch brand—a powerful Swiss name cheapened by the success of quartz—there's more to it than that. Tissot still exists because of their adaptations to changes in watchmaking. If they had not joined other Swiss companies in the 19th century in trying to grow and evolve watchmaking, the world of watches would be at a loss. Still running on their motto, "Innovations by Tradition", Tissot remains a tour-de-force name in the watchmaking world. While the father-and-son origins of the brand seem miles away from their current standing, it was that original hustle and spirit that's laid Tissot watches on the wrists of Presidents and everyday people alike. Tissot is more than a safe mid-range watch—to put it another way. After nearly two centuries of staying on top of trends and bringing their own flair to watch design, they are a historically significant brand that's worth the attention they retain. Perhaps another tactile surprise may come from them as the world of watches moves into the future. Until then, their ability to blend tradition with current trends will continue to inspire millions of purchases around the globe.
Strapmeister is proud to take inspiration from these watches, as their design permits a great range for innovation and creativity, when considering accessorizing with different straps. It is clear to even the untrained eye, these watches are of extremely desireable merit and quality, and Strapmeister's designs offer high-quality material, comfort, and proud background. Wear Tissot with Strapmeister straps!
Teddius Mauritius Sta Maria