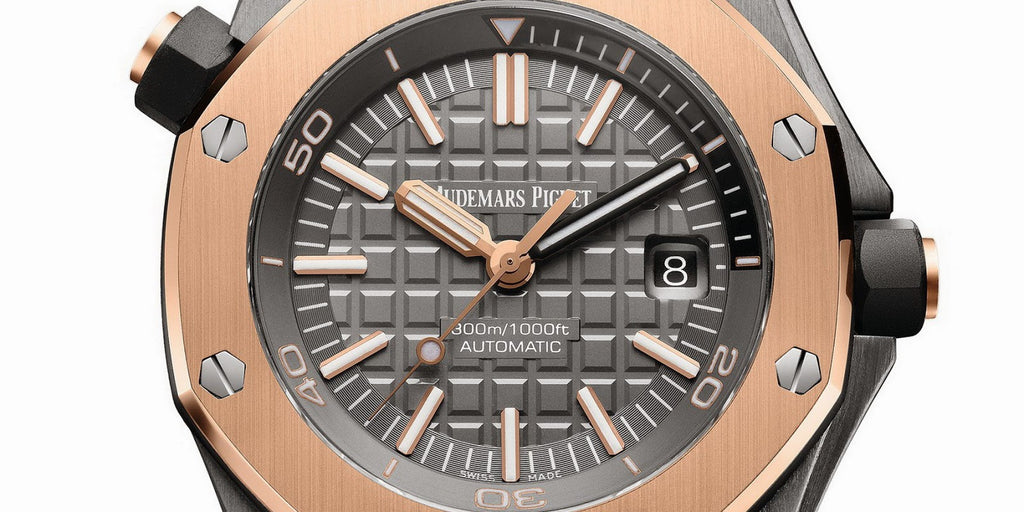 Audemars Piguet was founded in 1875 by Jules-Louis Audemars and Edward-Auguste Piguet. Childhood friends, Audemars was 23 years old and Piguet 21 at the inception of their watchmaking exploit. Jules-Louis asked Edward-August to work together with him to establish watch movements, and as the pair worked together, they went on to have great success. Their customers were happy. Whether or not either of them knew of their talent and capability to design such excellence, the two Swiss watchmakers made their way onto the plains of horological prestige.


Today, their brand produces in three production sites - La Brassus, Le Locle and Meyrin in Switzerland. The company is comprised of 18 boutiques and 14 distribution subsidiaries worldwide, with 1450 emplyees.

In April 1972, Gérald Genta invented the Royal Oak model, in preparation for the annual watch-making fair in Basal, Switzerland.

In 1992, Emmanuel Gueit designed the Royal Oak Offshore, in celebration of the Royal Oak's 20th anniversary. These watches have since become a favourtie among many haute horology afficionados.

An "extreme" sport version of the Royal Oak, the 42mm case made this an "oversized" watch, although nowadays such a size is not at all unusual.

Featuring a 300m water resistances and materials such as carbon and rubber, the Royal Oak Offshore was also known as "the Beast". This branch of the Audemars Piguet watches is one definitely to be noted, as they really are something special. Three Royal Oak Offshore models are the Ceramic Diver, the Forge Carbon Diver, and the Steel Diver. These watches take credit for the inspiration of Strapmeister's Audemars Piguet strap selection.

The Ceramic Diver has a ceramic black case. The dial is black and has a tough looking "Mega Tapisserie" pattern. The minutes hand is orange, along with the 60 to 15 mark on the roating inner bezel.


The Carbon Diver specs are similar, but with a forged carbon case. The minutes hand and 60 t o15 bezel-mark is yellow. Background Pattern is Mega Tapisserie.


The Steel Diver has a hardy stainless steel case and rubber-clad screw-locking crown. Background pattern is also Mega Tapisserie.


Audemars Piguet watches are without a doubt among the greats when considering mechanical complexity and meticulous craftsmanship. Haute horology is an arena of notable contenders, and if you're wanting for a high grade of excellence, well you need not look much further than the Royal Oak Offshore.

Strapmeister is proud to take inspiration from these watches, as their design permits a great range for innovation and creativity, when considering accessorizing with different straps. It is clear to even the untrained eye, these watches are of extremely desireable merit and quality, and Strapmeister's designs offer high-quality material, comfort, and proud background. Wear your Royal Oak Offshore with Strapmeister straps!
Continue reading